And, like I have said, it is all the types of pesticides killing the bees...And the GMO BT seeds...This BS about a certain type of pesticide being what is causing pollinators to die ~this is a lie...
When are these people going to get over themselves, and start thinking right?
Right for every living thing on this planet!
Wanna bet they put former Monsanto execs in charge?
BT seeds
Barack Obama is taking steps save honey bees from
a mysterious die-off
, ordering new research into the
pesticides linked
to the pollinators' collapse.
The
presidential memorandum
released by the White House on Friday charges a new task force with producing a strategy within 180 days to stop the alarming decline of honeybees, butterflies and other pollinators.
The memorandum also for the first time directs the Environmental Protection Agency (EPA) to carry out research into the role of a new class of pesticides, neonicotinoids, that have been linked with the collapse of the honeybees.
However, Obama stopped short of a ban on neonicotinoids, as the European Union and some local authorites have done.
The die-off of honeybees in many countries over the last decade has caused widespread alarm because so many of the world's food crops require pollination.
The decline has been linked to loss of habitat and disease. But there is growing evidence of a direct link between neonicotinoids, the most widely used class of insectides, and colony collapse disorder.
A Harvard study last month found exposure to two of the neonicotinoids caused honeybees
to leave their hives and die.
The EU banned three of the neonicotinoids for two years pending further study on their effects late last year.
The presidential memorandum, while giving pesticides top billing among "stressors leading to species declines and colony collapse disorder", also calls for research into poor nutrition, parasites, and loss of habitat as
potential causes of the die-off
.
Campaign groups welcomed the White House measures – but said they did not go far enough.
Obama should have followed the example of the EU and put restrictions on pesticide use, said Tiffany Finck-Haynes, food campaigner for Friends of the Earth US.
"He could restrict neonicotinoids today as the European Union has done and he should do that if he wants to protect our pollinators, our food systems, and our environment," said Tiffany she said.
The Centre for Food Safety in its response said: "There is already a wealth of
peer reviewed literature
demonstrating the harms of pesticides to bees and other pollinators."
The Pollinator Health Task Force established of Friday is also charged with expanding habitat for honeybees of federal land or on landscaping around government buildings.
"Future landscaping projects at all Federal facilities shall, to the maximum extent appropriate, use plants beneficial to pollinators," it said.
Meanwhile, the US Department of Agriculture said on Friday it would spend $8m to establish new habitat for honeybees in Michigan, Minnesota, North Dakota, South Dakota and Wisconsin.
http://www.theguardian.com/environment/2014/jun/20/bees-die-off-mystery-white-house-plan-save

Well, a special USDA Task force...You know what that means ~ NOTHING! More BULL!
STAKEHOLDERS?
"Friday, June 20, President Barack Obama signed a Presidential Memorandum that recognizes the severe losses in the populations of the nation's pollinators, including honey bees, wild bees, monarch butterflies and others. In accordance with these losses and acknowledging the importance pollinators have to the agricultural economy, the memorandum directs federal agencies to establish a Pollinator Health Task Force, to be chaired by U.S. Department of Agriculture (USDA), develop a pollinator health strategy within 180 days, and support and create pollinator habitat. This federal strategy will include a pollinator research action plan, with a focus on preventing and recovering from pollinator losses, including studying how various stressors, like pesticides, pathogens and management practices contribute to pollinator losses. The task force will also engage in a public education initiative and develop public-private partnerships with various stakeholders."
USDA and EPA are jokes on us..
Silent Spring Revisited free here...
More than two billion pounds of pesticides are sold each year in the United States for agricultural, commercial, and home uses. At present, the Environmental Protection Agency (EPA) has registered more than 18,000 pesticides.The public assumes pesticide products are safe because they are registered for use by the EPA, but their faith is misplaced... As this report documents, the EPA's regulatory oversight of the pesticide industry is abysmal. When confronted with credible studies on the adverse impacts of pesticides, the EPA has consistently responded by attempting to diminish the findings in any way it can, even though it has admitted that "most pesticides pose some degree of risk because they are designed to have a negative effect on living organisms."1 While the Environmental Protection Agency is entrusted to protect public health and the environment it has consistently attempted to ignore mounting evidence demonstrating that even low doses of pesticides in wildlife and humans can have drastic consequences. By ignoring sound science, disregarding U.S. Fish and Wildlife Service requests to alter pesticide registrations because of adverse impacts to wildlife, and rushing to get pesticides on the market, the
EPA's Office of Pesticide Programs has proven it is not an independent entity.
http://www.biologicaldiversity.org/publications/papers/Silent_Spring_revisited.pdf
Put on your tin foil hats and gas masks everyone...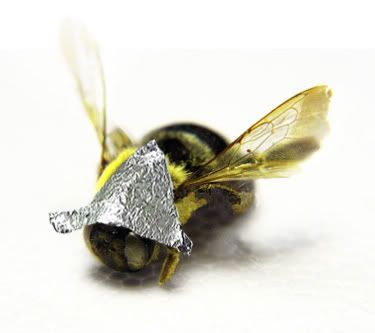 Look behind the curtain....
DAVID SUZUKI? Another guy taking money we could use to stop this. Their lips keep flapping, but nothing is done.
WHY? Because it takes court action, and not lips flapping to stop this.
" I'm not getting any money from my foundation. I'm getting my money, the foundation gets its money, from ordinary people. We don't take government money, corporations have not been interested in funding us. We get it from ordinary Canadians across the country. 40,000 thousand of them and we get some foundations in both Canada and the United States. So that's my agenda. We speak on behalf of the people that fund us.
A little fact checking exposes David Suzuki as a charlatan. (HT: Musing)
After Suzuki insinuates that scientists who disagree with him are "shilling" for big corporations, Oakley asks him where he gets his funding. Suzuki replies that his foundation takes no money from governments and complains that "corporations have not been interested in funding us."
Corporations uninterested? Is it possible that the Great Suzuki has failed to attract a single corporate donation to his feel-good campaign to save the earth? Not one?
Actually, the David Suzuki Foundation's annual report for 2005/2006 lists at least 52 corporate donors including: Bell Canada, Toyota, IBM, McGraw-Hill Ryerson, Microsoft, Scotia Capital, Warner Brothers, RBC, Canon and Bank of Montreal.
The David Suzuki Foundation also received donations from EnCana Corporation, a world leader in natural gas production and oil sands development, ATCO Gas, Alberta's principle distributor of natural gas, and a number of pension funds including the OPG (Ontario Power Generation) Employees' and Pensioners' Charity Trust. OPG is one of the largest suppliers of electricity in the world operating 5 fossil fuel-burning generation plants and 3 nuclear plants…