"The paradigm applied in the current risk assessment of genetically plants has to be reviewed.
We suggest that all further authorizations for genetically engineered plants producing insecticidal toxins are suspended."
—
unexpected reactions in genetically engineered maize MON810 when exposed to environmental stress
* Gene expression and content of insecticidal toxins cannot be reliably predicted
10 April 2015 / Scientists from Switzerland and Norway have now published the results of an investigation into genetically engineered maize MON810, which produces an insecticidal protein, a so-called Bt toxin (Trtikova et al., 2015). In the investigation, two varieties of maize MON810 were grown in climate chambers and subjected to defined stress conditions i.e. cold/wet and hot/dry. According to the authors, this is the first study to report on whether there is a relationship between transgene expression and protein production in Bt maize under changing environmental conditions.
The results are surprising: In general, the Bt content was on average higher in one variety compared to the other. Under cold/wet conditions the content of Bt increased in one of the varieties, but not in the other. The activity of the DNA construct inserted into the plants was lowered significantly under hot/dry conditions in one variety, but this had no influence on the Bt content.
"These results show that the stress reactions of maize containing the DNA for the MON810 event are not predictable in reliable way. These findings are highly relevant for the risk assessment of MON810 or 1507 maize and other genetically engineered plants expressing single or several Bt proteins", says Christoph Then for Testbiotech. "The paradigm applied in the current risk assessment of genetically plants has to be reviewed. We suggest that all further authorisations for genetically engineered plants producing insecticidal toxins are suspended."
If you have read my blog you knew this already...
Plants Genetically Change Themselves in Stress...Hate to be a "Fear Monger" but...
Under normal growing conditions susceptible plants do not contain dangerous levels of cynaide compounds.?
Cyanide[edit source]
Hydrogen cyanide (Prussic acid) is a poisonous chemical compound with chemical formula HCN, is a cyanide-containing compound. It is produced by certain plants under conditions of plant stress such as drought or frost. Cattle ingest the plant, and during digestion the cyanide compound is released. Risks are highest when grazing frosted sorghums and Sudangrasses that are still green.
Hay from these grasses stored for two months or more losses all its cyanide content.
Other plants that can produce Prussic acid under certain conditions are the Sorghum family, including both forage sorghum and grain sorghum (highest levels) , Sudangrass, Johnsongrass and Bermudagrass. Included as well are The Prunus family; wild black cherry, choke cherry, and pin cherry. Green flax can also produce this compound. Some non-hybridized strains can produce cyanide compounds .
Factors which increase cyanide concentration:
Young, rapidly growing plants
Mature plants that are stressed due to such conditions as drought, frost, wilting and trampling, herbicide damage, heavy nitrogen fertilization, and disease conditions.
Under normal growing conditions susceptible plants do not contain dangerous levels of cynaide compounds. Nitrate toxicity is another similar problem which can occur under certain conditions and can affect any plant.
Canola oil contains large amounts of "isothiocyanates" - cyanide-containing compounds. Cyanide inhibits mitochondrial production of adenosine triphosphate(ATP), which is the energy molecule that fuels the mitochondria. ATP energy powers the body and keeps us healthy and young !
Why in the world would we allow any kind of genetic modification?
Is Life and this Earth to be gambled:
by teaching plants to grow pesticides in their beings..?
Kinda like we are too?

The article continues,,,
Currently, European Food Safety Authority (EFSA) risk assessment does not include any in-depth investigation of interactions between the transgenic plant genome and the environment. There are, for example, hardly any data at all on how genetically engineered plants could react to ongoing climate change. Reliable data on the Bt content are needed to assess potential toxicity in non-target organisms. For example, risks for non-target organisms such as soil organisms or the larvae of protected butterflies can be much higher than assumed if the Bt content shows a high range of variation. It should also be taken into account that immune reactions due to the consumption of food and feed derived from transgenic plants have been observed in several feeding studies. It is likely that these effects are dose-dependent and therefore the content of the Bt toxins also plays a decisive role in the risk assessment for food and feed.
This pilot project was realised with the support of Testbiotech and with funding from the Manfred Hermsen Umweltstiftung.

And if you have read my blog you know that the EFSA, is a tentacle of Monsanto too...Like the USA USDA.
The World Health Organization and its International Agency for Research on Cancer (IARC) reclassified Monsanto's flagship herbicide Glyphosate as "probably carcinogenic to humans". IARC scientists are not backing down from their scientific review under Monsanto's demands that they retract their findings. My own modest contribution regarding the revelation by a Monsanto functionary that they have a fulltime department "debunking" science which disagrees with theirs has firmly fixed the phrase "Monsanto Discredit Bureau" in the blogosphere lexicon.

On March 26, the watchdog environmental organization, Public Employees for Environmental Responsibility (PEER), which advocates for scientists and researchers, submitted a petition to USDA Secretary Vilsack calling upon the federal agency to revise its standard for scientific integrity to match the protocol in place in other federal departments in line with President Obama's memorandum of March 2009 on protections for scientific inquiry.
it looks so good to see their world falling down around them...Fake person corporation with fake people running it who are actors...in case you did not know Ralph Finesse is CEO Hugh Grant and it goes on and on Fraley is his father...and many more.
..OMG...Would you want to be the leaders of the evilest corporation in the world, and let people know who you are...Solved with actors.
My discredit bureau is better then Monsanto's because my discredit is from truth, and theirs' lies and fabrication...
One student asked what Monsanto was doing to counter the "bad science" around their work. Dr. Moar, perhaps forgetting that this was a public event, then revealed that Monsanto indeed had "an entire department" (waving his arm for emphasis) dedicated to "debunking" science which disagreed with theirs. As far as I know this is the first time that a Monsanto functionary has publically admitted that they have such an entity which brings their immense political and financial weight to bear on scientists who dare to publish against them. The Discredit Bureau will not be found on their official website.
The challenge for Monsanto's Discredit Bureau is steep in attacking the unimpeachably respected Lancet and the international scientific bodies of WHO and IARC. However, they have no choice but to attack since the stakes are so very high for them. Glyphosate is their hallmark product upon which the majority of their profits are based. Make no mistake, this is extremely bad news for Monsanto.
Monsanto holds up the sheer abundance of their own well-funded studies citing the safety of Glyphosate, done over only the past twenty years which is a short period of time in scientific inquiry particularly when dissenting research is actively suppressed. They also hold up the findings of regulatory bodies, particularly in the United States where the revolving door between agrochemical corporations and government spins at high speed.
Critics of the agrochemical industry have often cited the history of these corporations who rush their products to market with protestations of safety only to discover down the road that they have become persistent ecological and health nightmares. We are seeing the end of that road for Glyphosate.
UPDATE: Read the second diary in what is rapidly turning into a series. USDA Tentacle of Monsanto 'Discredit Bureau'?



Their bravery characterizes the highest calling of scientific integrity.




Science is not a shining citadel on a hill founded on unassailable objective facts and data. Science is a human endeavor subject to human frailties and failings. Science, increasi

ngly divorced from integrity and accountability, becomes subverted when it is manipulated and orchestrated by multinational corporations whose sole aim is global market share to increase profits.
USDA URGED TO SHIELD ITS SCIENTISTS FROM HARASSMENT
Agency Scientific Integrity Policy Riddled with Gags, Gaps and Loopholes
Posted on Mar 26, 2015 |
Washington, DC — Scientists within the U.S. Department of Agriculture are subjected to management pressure and retaliation for research threatening agribusiness interests, according to a rulemaking petition filed today by Public Employees for Environmental Responsibility (PEER) seeking to strengthen the USDA Scientific Integrity Policy. The petition presses USDA to adopt "best practices" from other federal agencies' scientific integrity policies to prevent political suppression or alteration of studies and to lay out clear procedures for investigating allegations of scientific misconduct and protecting whistleblowers.
Adopted in 2013 under a directive from President Obama, the USDA Scientific Integrity Policy declares that its purpose is "to ensure the highest level of integrity in all aspects" of agency scientific endeavors. But PEER contends the policy falls far short of this goal, pointing, for example, at a vague gag order constraining any scientific work with policy implications:
"…scientists should refrain from making statements that could be construed as being judgments of or recommendations on USDA or any other federal government policy, either intentionally or inadvertently."
PEER has received reports concerning USDA scientists ordered to retract studies, water down findings, remove their name from authorship and endure long indefinite delays in approving publication of papers that may be controversial. Moreover, scientists who are targeted by industry complaints find themselves subjected to disruptive investigations, disapprovals of formerly routine requests, disciplinary actions over petty matters and intimidation from supervisors focused on pleasing "stakeholders."
"A largely invisible and toothless Scientific Integrity Policy enables corporate influence over critical USDA scientific research decisions," stated PEER Executive Jeff Ruch, noting the USDA policy promises a website to display case-specific and other information but no such site exists. "USDA's scientific integrity program is like a black hole, allowing no information to escape and no light to penetrate."
To close gaps and loopholes, the PEER petition proposes that USDA adopt model provisions that already exist in other agencies' integrity policies governing the ability of scientists to publish and discuss research, contest decisions to block release of data, file and pursue complaints of political manipulation of studies and enjoy protection from reprisal for filing a complaint or engaging in research with potential political implications. The petition urges USDA to adopt a number of specific provisions in place within federal departments such as the Nuclear Regulatory Commission, National Oceanic & Atmospheric Administration and Environmental Protection Agency, among others.
"There is no reason why USDA scientists should labor under safeguards far inferior to those extended to their colleagues working inside other agencies," Ruch added. "To earn public credibility for its scientific work, USDA needs to spell out procedures by which political influences can be policed and scientists protected while allowing outside review of its handling of allegations and disagreements."
###
Read the PEER rulemaking petition
See the USDA Scientific Integrity Policy
View comparison of agency scientific integrity policies
http://www.peer.org/news/news-releases/2015/03/26/usda-urged-to-shield-its-scientists-from-harassment/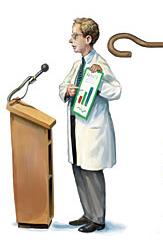 In anticipation of the stranglehold industry currently displays over USDA, the
Organic Foods Production Act
created an independent advisory board, the National Organic Standards Board (NOSB), from a wide range of organic stakeholder groups to provide recommendations to the National Organic Program and USDA on products and processes allowed in certified organic products. It is critical that consumers make their voice heard over that of industry, and protect organic from being overtaken by the same agribusiness interests that dominate conventional agriculture at USDA. Comments to the NOSB are due by midnight tonight. Please go to Beyond Pesticides'
(Beyond Pesticides, April 8, 2015) Organic stakeholders have filed a lawsuit in federal court, maintaining that the U.S. Department of Agriculture (USDA) violated the federal rulemaking process when it changed established procedures for reviewing the potential hazards and need for allowed synthetic and prohibited natural substances used in producing organic food. A coalition of 15 organic food producers and farmer, consumer, environmental, and certification groups asked the court to require USDA to reconsider its decision on the rule change and reinstitute the agency's customary public hearing and comment process. Read the complaint
here
.
http://www.beyondpesticides.org/dailynewsblog/?p=15363
Prison for this GUY...
Kansas Secretary of Agriculture Jackie McClaskey noted the importance of biotechnology to Kansas farms and ranches.. "The mission of the Kansas Department of Agriculture includes the responsibility to help ensure a safe food supply, protect our natural resources and provide consumer protection to the best of our ability. Genetically engineered crops play a role in achieving that goal, allowing farmers to be good stewards of the land while producing safe and wholesome crops that are in demand around the globe."
On average, it takes 13 years and $130 million to develop and test a GE crop before it is released into production. After intense examination, years and dollars later, these crops are approved for both consumer and environmental safety. The Food and Drug Administration (FDA), United States Department of Agriculture (USDA), the Environmental Protection Agency (EPA) and other credible sources have found GE crops to be as nutritious and safe as traditionally bred crops. There have been no scientifically-proven cases of biotechnology adversely impacting food safety or human health.
BIOTECHNOLOGY AWARENESS WEEK CELEBRATED APRIL 13-19
BY Kansas Department of Agriculture | April 10, 2015

http://kticradio.com/agricultural/biotechnology-awareness-week-celebrated-april-13-19/
1. 10 Years of Failure, Farmers Deceived by GM Corn
MASIPAG (Philippines), 16 Oct 2013
The film entitled "10 Years of Failure, Farmers Deceived by GM corn" shows the dire situation of corn farmers in the Philippines who have adopted GM corn. Amidst protests from farmers, scientists, consumers, and basic sectors, GM corn was commercialized in the Philippines in 2003. At present, there are about 8 varieties of single, stacked-trait, and pyramided GM corn approved by the government for direct planting. It is now planted in about 685,317 hectares of agricultural land allotted for corn.
The film documentary is based on the study done by MASIPAG on the socio-economic impacts of GM corn on farmers' lives and livelihood after more than 10 years of commercialization. In the film, GM corn farmers relate how they became indebted because of the rising cost of GM corn seeds and increasing cost and quantity of inputs being used. The film also shared the farmers' account on the effect of GM corn farming such as emergence of new pests, soil erosion, corn contamination, and human and animal health impacts. Farmers also shared the difficulty to go back to traditional or organic corn farming because of the loss of traditional seeds and practices replaced by GM corn farming and the effects of neighboring GM corn plantations. The film documentary covers the islands of Luzon, Visayas, and Mindanao.
Film produced by Magsasaka at Siyentipiko para sa Pag-unlad ng Agrikultura (MASIPAG) and KI Multimedia
---
2. Massive GMO crop failure in Philippines
An authentic, humble, and yet shocking video of 10 years of GMO crop failure in the Philippines rocked my world tonight. Never have I been more sure that GMOs and Glyphosate (Roundup) are dangerous and destructive. They destroy the livelihood of hard working farmers, they destroy the health of our people and the fabric of our society. Please watch this video and reconsider being straight forward with everyone you know about the health dangers and GMOs/Glyphosate. Please send this video to farmers, grocery stores, doctors, food service directors, nurses, child care providers, and Moms.
If we don't buy it, they can't sell it, and the farmers won't grow it. Once you watch this video you will see how we will be helping the farmers by facilitating this change.
GMO crop failure in Philippines

Been going on a very long time!!!!!
"I couldn't access this, dailykos is doing some sort of page maintenance, but I definitely want to get back to it. I can already tell you that the answer is a resounding YES. I was married to a senior USDA research scientist for 21 years and my research into Monsanto started back in 1996, because of that relationship. He was pro-USDA party line all the way (notice I said 'ex') but the things I learned from him about how the USDA was handling approval of GMO crops are what got me started on the road to learning the truth.. The USDA is 100% in the pocket of not only Monsanto but the entire biotech industry. "