"A voracious crop-destroying pest has evolved to feed upon the very GMO product that was designed to eliminate it. Wired.com reported that the triumph over corn rootworms was one of biotech's great success stories, saving billions of dollars in crops each year.
So-called Bt corn — named for the Bacillus thuringiensis gene, which killed rootworms, corn borers and other pests — currently makes up more than three quarters of the total corn grown in the U.S., a lack of crop diversity that could spell disaster if the resistant cornworms spread.
The crop itself is not to blame, say scientists, but rather mismanagement by farmers, corporations and lawmakers that has led to the squandering of whatever benefits had been gained by the use of the genetically modified crop."
'A widespread increase in trait failure maybe just around the corner.'
There's a lesson to be learned for future crop traits, Shields said. Rootworm resistance was expected from the outset, but the Bt seed industry, seeking to maximize short-term profits, ignored outside scientists. The next pest-fighting trait "will fall under the same pressure," said Shields, "and the insect will win. Always bet on the insect if there is not a smart deployment of the trait."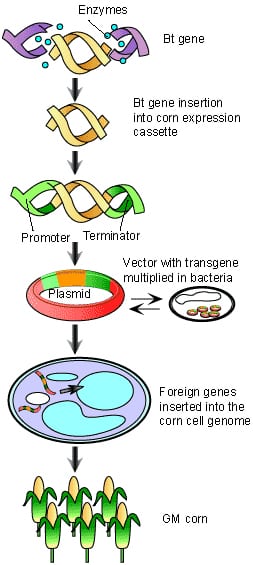 ASK SOME QUESTIONS...?
The researchers treated some human stem cells with a small amount of RNA designed to suppress HERV-H. Doing so, they found, removed the stem cell's ability to develop into any human cell—instead they would only grow into cells that resembled fibroblasts—cells normally found in connective tissue. A closer look revealed that suppressing HERV-H also suppressed the production of proteins necessary for pluripotency. Thus, at least in humans, the remnant viral DNA appears to be necessary for normal human development—without it, human life would be impossible.
Because of the role HERV-H plays in pluripotency, its possible other remnant viral DNA plays a role in human development as well,
http://phys.org/news/2014-03-ancient-virus-dna-remnants-pluripotency.html#jCp